Contact Us
Visit Us
Befitting our energetic, downtown location, our hours are a workaholic's delight. Early morning, late evening, even Sunday appointments are available.
Monday

10:00am – 6:00pm

Tuesday – Friday

8:00am – 6:00pm

Saturday

7:00am – 6:00pm

Sunday

Please Inquire
Find Us
We're located at 1604 K Street, NW, between 16th and 17th Streets, just two blocks from the West Wing.
Andre Chreky, the salon spa is convenient to the Farragut North, Farragut West and McPherson Square Metro Stations.
Contact Us
We love compliments — and we're always eager to know if you have a suggestion or two.
E-mail:

Toll Free Phone:

1-800-833-3358

Phone:

202-293-9393

Fax:

202-293-2634
Pay Us
To make your life easier, we accept Visa, Mastercard, Discover and American Express. Please note, gratuities may not be added to credit card payments.
Humor Us
Twenty-four hour advance notice is required for all cancelled appointments. Prices are subject to change; please confirm upon booking.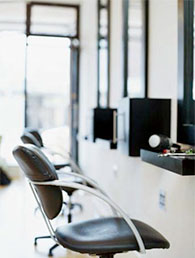 The only thing we
won't trim is a day
out of the week