Face and Body
Our licensed estheticians use the finest, world-renowned products for treatments that are irresistible, not irritating.
---
Face and Body Treatments
These personalized treatments are designed for your individual complexion. The result: immaculately clean revitalized skin that's smooth and glowing.
Signature Express Facial

When time is of the essence, we deliver the essentials! This speedy facial cleanses, hydrates, and rejuvenates your skin: remarkable results, remarkable speed.
$65
Signature European Facial

This classic facial is a thorough, deep cleansing treatment for the face and neck. It is basic, uncomplicated, and meant to improve the look, feel, and health of the skin.
$90
Aromatherapy Facial

This soothing treatment combines essential oils with a custom-made plant concentrate mask and a gentle pressure point massage. It relaxes your muscles, reduces wrinkles, minimizes oil secretion, calms and soothes skin, and restores radiance.
$100
Acne Facial

Our targeted treatment for problem skin begins with a gentle herbal cleansing, followed by a deep exfoliation micro-peel, "ouchless" extractions, and a clarifying mask.
$100
Hydra Peeling Facial

The Hydra Peeling treatment utilizes fruit acid and vitamin C to eliminate dead cells and brighten the skin. It reduces pigmentation, deeply exfoliates, reduces wrinkles and fine lines, hydrates, and firms the skin.
$120
Liftosome Facial

TMore than a mere "lifting" treatment, this facial acts to redefine facial features. Liftosome's double action helps tighten, tone and improve the skin's texture. It also reduces the appearance of dull, tired skin and hydrates, firms, and brightens your face.
$130
Age Summum Facial

This treatment delivers active, precious anti-aging ingredients that directly target signs of aging. Pure Vitamin C stimulates the synthesis of collagen and provides antioxidant action for exceptional radiance. Hyaluronic acid filler spheres smooth away wrinkles. Pro-collagen stimulates the synthesis of collagen and fights against slackening.
$140
Eye Facial

Enjoy a relaxing anti-aging eye treatment that includes a de-stressing acupressure massage, a hydrating/cooling mask, and calming aromatherapy. You'll be rewarded with fresher, brighter, and younger-looking eyes.
$65
Back Facial

Treat your back to a gentle steaming that opens pores and lifts impurities, followed by a deep cleansing, exfoliation, and therapeutic mask. The treatment includes a relaxing neck, back, and shoulder massage.
$90
Micro Treatments
Try these luxurious add-ons with any facial treatment. Pick one, two or all three to enhance your experience.
Lip Buff Exfoliation

This treatment gently sweeps away dead, peeling skin, reduces fine lines, and promotes natural color. Lips feel cushioned, soft, and smooth.
$30
Eye Mask

This cooling and de-puffing mask helps refine, brighten, and smooth away dry, crinkly skin around your eyes, restoring your youthful appearance.
$30
Hand Treatment

Restore dry, worn hands to a smooth, soft, supple state. Hands are exfoliated and massaged with a conditioning crème. Warm mitts ensure that your hands will be left super soft, smooth and youthful again!
$30
Makeup
After all, even Mother Nature can use a helping hand…
Makeup Lesson

This complete makeup session includes a personal color analysis, application, and tips for at-home techniques.
$125
Makeup Application

Our professional makeup artists will add the picture-perfect touch before your special event.
$100
Airbrush Makeup

Airbrush makeup creates a beautiful, flawless finish that lasts for hours.
$100
Brow Design

A professional, "just-for-you" brow design can subtly — but significantly — enhance your appearance.
$30
Eyelash Application

When mascara isn't enough, individual lashes can give your eyes "oomph." We meticulously apply each lash for a look that's fresh and natural…or bold and dramatic.
starting at $30
Fine Print ~ Your appointment has been set aside just for you; 24-hour advance notice is required for all cancellations. Prices are subject to change; please confirm prices when booking your appointment.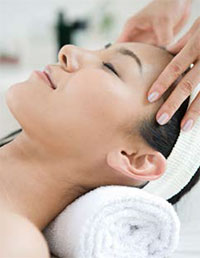 Good things come
in spa packages